JESÚS CUTIÑO & SON DE CUBA is an exciting London based band fronted by guitarist/songwriter Jesús Cutiño. Their repertoire displays both the flamenco and African roots of Cuban music. It consists mostly of Jesús' compositions (No Me Castigues, Tu Boca, Corazon Apagao, Me Causa Pena, Una Miraita, Yo Quiero Fiesta...) as well as some Cuban and Colombian modern classics (Y Despues De Todo by Los van Van or Ya No Hace Falta by Bamboleo...). Style and instrumentation range from a traditional cha-cha-cha to a hot and pulsating timba or reggaeton.
POSTCODE: N15 4RX
Underground:
Seven Sisters (Victoria Line) – take Tottenham High Road exit, five mins walk from the station. Exit from exit 1, Tesco should be on your right hand side. Walk straight up the road and past CONEL, which will be on the left, and turn left. Bernie Grant Arts Centre is just past the town hall and before the leisure centre and Marcus Garvey Library.

Buses:
149, 259, 243, 476, 230, 123, 41, 341
Trains:
Seven Sisters, Tottenham Hale.
Day by day the Latin American presence is being more and more noted in the capital, where you can find various kinds of Latin American Businesses from restaurants, boutiques and discos to salsa academies. Also there are more and more Latin American people doing office and bank jobs instead of the typical "odd jobs" that the majority of them were doing years ago. Fiesta Latina reflects the growth of the Latin American culture in the English capital, so come and have a little taste of it.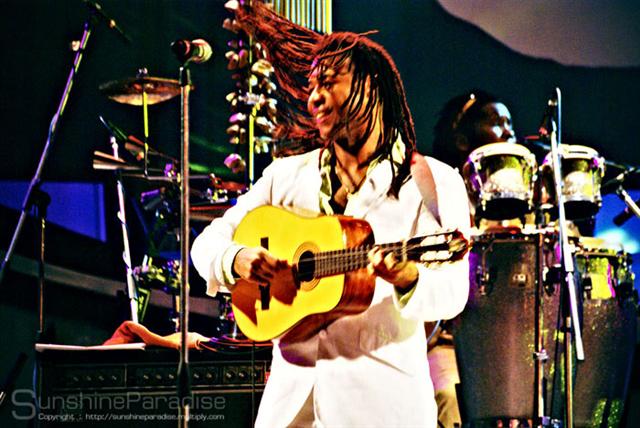 With a line-up of seven Cuban musicians and an Italian saxes player, all considered among the best Latin musicians in London, the band has successfully created its own identity and an innovative sound which intertwines traditional Cuban 'son', timba, mambo, samba, flamenco and reggaeton. It is fast, exciting, romantic and eminently danceable.
The band's hot mix of modern Cuban beats and Jesus' charismatic stage presence have attracted an enthusiastic following on the London club scene and guarantee to get any audience up and dancing.
JESÚS CUTIÑO & SON DE CUBA have performed at various world music or jazz venues that include Ronnie Scott's (the band has a residency at Ronnie Scott's Upstairs), Momo's, Passing Clouds, Charlie Wrights International, Floridita, Jazz Cafe Posk and the New Empowering Church. They also perform regularly for some of the best promoters of Cuban music and arts in the UK such as Cuba 50, Viva La Revolucion!, Cubacheche, Salsa Explosion or the Cuban School of Arts. Abroad they have performed in Taiwan, Spain and Italy. Finally, they have performed at the Hop Farm Festival in Kent (July 2010) and the Cultura y Cubania Festival in London (October 2010).
Powered by