Named for her favourite shade of lipstick, Russian Red is actually Spanish indie sensation Lourdes Hernández, whose second album Fuerteventura, released in 2010, was recorded with legendary Glasgow producer Tony Doogan . Guesting on the album were Stevie Jackson and Bob Kildea of Belle and Sebastian, who appear tonight alongside Hernández's own band.
Lourdes Hernández is a singer-songwriter based in Madrid, Spain. The moniker for Lourdes comes from a lipstick color she frequently uses. Her beautifully crafted, minimal songs beam delicate folk harmonies and lustrous vocals.
Monday 23 January
Union Chapel
Compton Terrace, Highbury & Islington, N1 2XD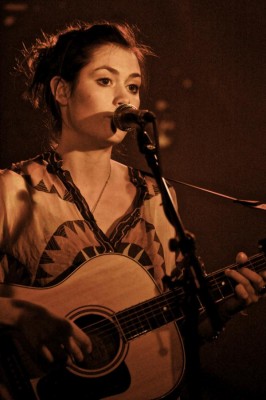 Rachel Sermanni's rave-reviewed New Voices concert at Celtic Connections 2011 ushered in something of an annus mirabilis for the young Highland singer-songwriter, including similarly stellar appearances at such tastemaker gatherings as South by Southwest, the Hebridean Celtic Festival and Cambridge Folk Festival. Ranging waywardly but deliciously from spiky art-pop to dreamy pastoral folk, she's one of Scotland's most exciting new talents.
Russian Red & Rachel Sermanni
Monday 23 January @ The Union Chapel, London
Doors: 7:00 PM
Price: £15 adv + booking fee
Powered by
info@latinosinlondon.com