The tireless music globe-trotter
DJ iZem
drops his debut EP, an organic mixture of Post-Dubstep, Soul, Hip-Hop and Brazilian
more
music. Big spaces, sub bass, jazz guitars and keys create this deep and spacious blend recorded in between Dublin, Paris, Morocco and Brazil.
DJ iZem is also the co-founder and the music director of the multilingual internet radio Groovalizacion -
www.groovalizacion.com
Produced by Jérémie Moussaid Kerouanton - Between July 2010 and July 2011. (Dublin / London / Paris / El Jadida)
http://djizem.bandcamp.com
Tracklist
1.Quiver (Feat. Aminah Dastan) 03:47
2.Debaixo D'Água (Feat. Bianca Fachel & Juliana Durães) 04:29
3.Do Avesso (feat. Nina Becker) 05:58
4.Quiver (T-Woc "North Of The Liffey" Remix) 03:46
5.Quiver (Prince Jean "Zilou" Remix)
Congratulations to our friend
Dj iZem
and this great EP showing the best of his skills and promoting brazilian artists with a special twist. All the best for him and the groovalizacion team to keep the latin music loud overseas. My favourit tracks are Do Avesso feat Nina Becker , a very well done song with that lovely voice coming into our ears made very special the sound of this EP and the top of this production as a quality album for me. My second one is Debaixo D'Água (Feat. Bianca Fachel & Juliana Durães) means Under the water , great sound of the accordion with nice lyrics talking about serenity & comfortability under the sea and how beautiful will be if we could breath inside to enjoy the whole place.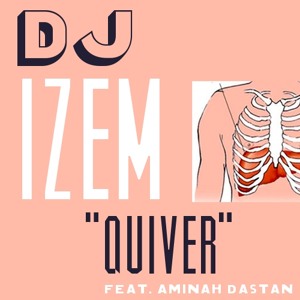 Mastered by Mike Bloemendal at Imaginex Studios (Kuala Lumpur - Malaysia)
Artwork by Igor Kochajkiewicz
Pictures by Veronica Vierin
Powered by