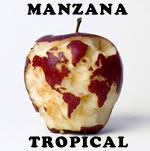 Pisco Disco now serves Peruvian Tapas!! and intoxicating CHICHA with Manzana Tropical, who will playing two sets of Peruvian cumbia and rock-spiced latin classics.
The night will start with BAhareque, a wonderful quintet (harp included!) of Latin folk who will be playing classics like Alma Llanera, boleros and wonderful tunes from that part of the world.
Followed by DJ Chilango on decks!

We will be updating on the contents of the Menu soon...
Event: PISCO DISCO
LIVE Manzana Tropical (Peruvian Cumbia)
Bahareque (Latin folk)
DJs CHILANGO and Sudaka
Latin/Rock party + Pisco cocktails
Peruvian Tapas (NEW!!)
When: 8pm-3am. Saturday, 26 November, 2011
Where: The CAMP
70-74 City Road,
London EC1Y 2BJ (Old Street tube)
Entry: £6.00 / £4 before 11pm / FREE before 9

Info: www.southexp.org/piscodisco.html
Book a table (FREE ENTRY till 10 with booking):
<www.thecamplondon.com> 020 7253 2443
LIVE Bands:
11:30/12:45pm Manzana Tropical (Peruvian Cumbia/Chicha) - two sets
10:00 Bahareque (Latin folk)

Links:
- Manzana Tropical
- Bahareque
http://www.myspace.com/baharequemusic
- DJ Chilango www.soundcloud.com/chilangouk
Powered by
info@latinosinlondon.com