Son Real One of London's leading Latin American Dance Bands in the United Kingdom, created by Latin Touch Entertainments with the collective talents from England and Colombia.The Band's electric repertoire is passionate, dynamic and eminently danceable. From the characteristically hot blooded tempos of Cuban Salsa and Brazilian Lambada, the traditional folk rhythms of Colombia and also Merengue from Puerto Rico and The Dominican Republic.
The 7-14 piece band is comprised of a funky rhythm section (percussion, piano, bass), a tight and bright brass section, and vocally they are fronted by three female singers, who engage audiences with their own unique vocal stylings and harmonies as well as dynamic stage performances
Son Real Orchestra: Angelica Rincon, Hazel Suarez, Lina Alzate (vocals); Andres Sanchez (guitar); Jorge E. Huertas "El Chavo" (tres); Ali Eudaldo Garces "Tarry", Luis Blanco (saxophone); Jose Aguirre, Javier Aponza, Oswaldo Espino (trumpet); Carlos Latoche (trombone); Jorge Herrera (piano, bass instrument, percussion); Carlos Humberto Galvez "Piolin" (piano); Ricardo Sabogal, Juan Carlos Castrillon, Carlos Cordoba (bass instrument); Diego Camacho, Juan Manuel Murillo, Wilson Viveros (percussion); Diego Galindo, Sarli Katherin Delgado, Mauricio Gomez, Mauricio Artunduaga, Marlin Murillo (background vocals). Line up to be updated including Angelica Lopez 2010.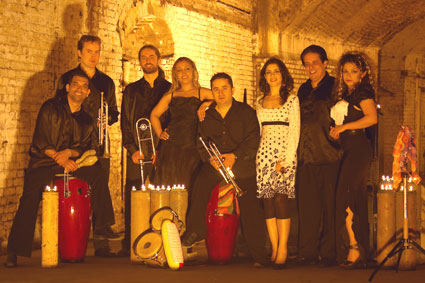 http://www.sonrealorchestra.com/
http://www.myspace.com/sonrealorchestra
http://www.alivenetwork.com/bandpage.asp?bandname=Son+Real+Orchestra
http://www.youtube.com/user/sonrealorchestra